Ingrid sent me this lovely picture of a caterpillar, along with a challenge to ID the wee critter :D
November 2010, Ehime, Ingrid Lezar
At first glance, whenever I see a hairy caterpillar, my thoughts automatically jump to Arctiidae as they are quite a hairy bunch :P.
This fellas hair is different however. It alternates between bristles (the whitish spikes on its sides) and haired projections (the yellow tufts on its back). This is a distinctive feature of the family
Lymantriidae
. It's interesting to note that this family is actually absent from New Zealand. I must see one of these with my own eyes whilst I'm in Japan :D!
As for the exact genus and species, I'm tempted to say
Calliteara pseudabietis
AKA リンゴドクガ AKA the apple toxic moth . This species is found in Shikoku (as well as 北海道 Hokkaido,本州 Honshuu,九州 Kyuushuu,対馬 Tsushima, and 屋久島 Yakushima).
See the picture below: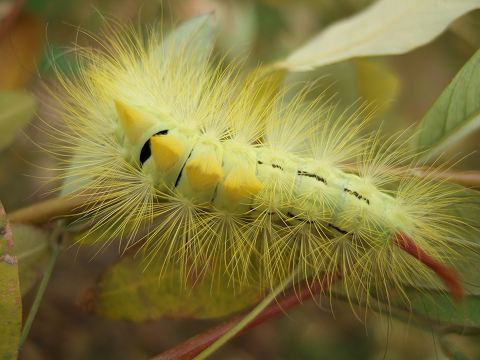 http://aoki2.si.gunma-u.ac.jp/youtyuu/HTMLs/2002-10-15-fukuyama-rinngo.html 貴代美 11/11/2005
However, we are missing the hairy, red projection on its little backside. So, as I don't know enough about this family, I'll just leave the ID at
Lymantriidae
. The best way to confirm the species ID of a caterpillar is to actually keep it and see what it turns into! :P
I'll leave you with a picture of what this cutie might have turned into: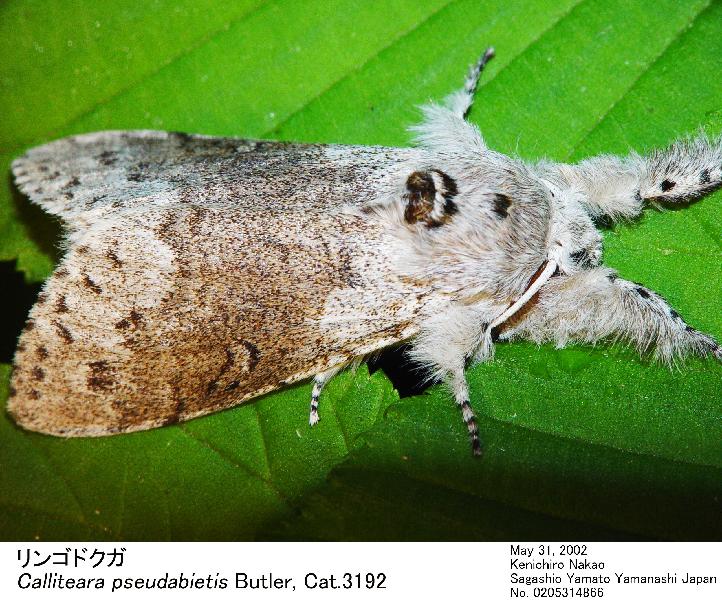 Mighty fine and furry legs I must say!!
Thanks Ingrid! :)
http://www.mothsofborneo.com/part-5/introduction.php
http://www.jpmoth.org/Lymantriidae/Calliteara_pseudabietis.html
http://mushinavi.com/navi-insect/data-ga_doku_ringo.htm